Here are some treatment options for Dry and Wet Age Related Macular Degeneration.
Nutritional supplements and Dry Age Related Macular Degeneration (AMD)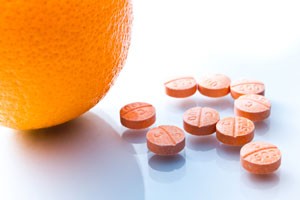 The Age-Related Eye Disease Study 2 (AREDS2) showed that people at high risk of developing advanced stages of AMD benefited from taking dietary supplements. Supplements lowered the risk of macular degeneration progression by 25 percent. These supplements did not benefit people with early AMD or people without AMD.
Following is the supplementation:
Vitamin C - 500 mg
Vitamin E - 400 IU
Lutein – 10 mg
Zeaxanthin – 2 mg
Zinc Oxide – 80 mg
Copper – 2 mg (to prevent copper deficiency that may be associated with taking high amount of zinc)
Another study showed a benefit in eating dark leafy greens and yellow, orange and other fruits and vegetables. These vitamins and minerals listed above are recommended in addition to a healthy, balanced diet.
It is important to remember that vitamin supplements are not a cure for AMD, nor will they restore vision. However, these supplements may help some people maintain their vision or slow the progression of the disease.
Wet AMD treatments
The most common treatment for wet AMD is an eye injection of anti-vascular endothelial growth factor (anti-VEGF). This treatment blocks the growth of abnormal blood vessels, slows their leakage of fluid, may help slow vision loss, and in some cases can improve vision. There are currently three anti-VEGF drugs available: Avastin, Lucentis, and Eylea.
You may need monthly injections for a prolonged period of time for treatment of wet AMD.
Laser Treatment for Wet AMD
Some cases of wet AMD may benefit from thermal laser. This laser destroys the abnormal blood vessels in the eye to prevent leakage and bleeding in the retina. A scar forms where the laser is applied and may cause a blind spot that might be noticeable in your field of vision.
Photodynamic Therapy or PDT
Some patients with wet AMD might benefit from photodynamic therapy (PDT). A medication called Visudyne is injected into your arm and the drug is activated as it passes through the retina by shining a low-energy laser beam into your eye. Once the drug is activated by the light it produces a chemical reaction that destroys abnormal blood vessels in the retina. Sometimes a combination of laser treatments and injections of anti-VEGF mediations are employed to treat wet AMD.
Article contributed by Jane Pan M.D.
The content of this blog cannot be reproduced or duplicated without the express written consent of Eye IQ
The jury is still out on that question. There is some supportive experimental data in animal models but no well-done human studies that show any significant benefit.
What you shouldn't do is pass up taking the AREDS 2 nutritional supplement formula, which is clinically proven to reduce the risk of severe visual loss in. Almost all the data supporting the POSSIBLE benefits of bilberry in visual conditions is related to NON-HUMANS. Stick with the AREDS 2 formula that has excellent clinical evidence.
So, what is bilberry and why do some people use it?
Bilberry (Vaccinium myrtillus), a low-growing shrub that produces a blue-colored berry, is native to Northern Europe and grows in North America and Asia. It is naturally rich in anthocyanins, which have anti-oxidant properties.
During World War II, British pilots in the Royal Air Force ate bilberry jam, hoping to improve their night vision. No one is exactly sure where the impetus to do this came from, but it is believed that this event is what lead to some widespread claims that bilberry was good for your eyes.
A study by JH Kramer, Anthocyanosides of Vaccinium myrtillus (Bilberry) for Night Vision - A Systematic Review of Placebo-Controlled Trials, reviewed most of the literature pertaining to the claim that bilberry improves night vision. He found that the four most recent trials, which were all rigorous randomized controlled trials (RCTs), showed no correlation with bilberry extract and improved night vision. A fifth RCT and seven non-randomized controlled trials reported positive effects on outcome measures relevant to night vision, but these studies had less-rigorous methodology.
Healthy subjects with normal or above-average eyesight were tested in 11 of the 12 trials. The hypothesis that V. myrtillus improves normal night vision is not supported by evidence from rigorous clinical studies. There is a complete absence of rigorous research into the effects of the extract on subjects suffering impaired night vision due to pathological eye conditions.
Even though there is no solid evidence in human studies that bilberry produces any positive visual effects on night vision there is some experimental evidence that implies it might be useful in some ocular conditions whose mode of action is oxidative stress. There are recent epidemiologic, molecular and genetic studies that show a major role of oxidative stress in age-related macular degeneration.
There have been some studies showing oxidative protective effects of bilberry in non-human models.
In Protective effects of bilberry and lingonberry extracts against blue-light emitting diode light-induced retinal photoreceptor cell damage in vitro, Ogawa et al showed in cultured mouse cells that adding bilberry extract to cells before subjecting them to high-energy short-wavelength light that the cells survived better mostly by reducing the amount of reactive oxidative molecules.
In Retinoprotective Effects of Bilberry Anthocyanins via Antioxidant, Anti-Inflammatory, and Anti-Apoptotic Mechanisms in a Visible Light-Induced Retinal Degeneration Model in Pigmented Rabbits, Wang et al found similarly improved survival of pigmented rabbit retinal cells when exposed to bilberry abstract prior to high-intensity light.
But bilberry is not without potential side effects.
Bilberry possesses anti-platelet activity; it may interact with NSAIDs, particularly aspirin. And excessive drinking of bilberry juice may cause diarrhea. One study of 2,295 people given bilberry extract found a 4% incidence of side effects or adverse events. Further, bilberry side effects may include mild digestive distress, skin rashes and drowsiness. Chronic uses of the bilberry leaf may lead to serious side effects. High doses of bilberry leaf can be poisonous.
Bilberry has not been evaluated by the Food and Drug Administration for safety, effectiveness, or purity.
Article contributed by Dr. Brian Wnorowski, M.D.
Read more: I Have Macular Degeneration - Should I Take Bilberry?